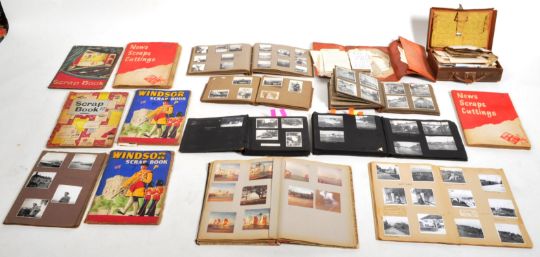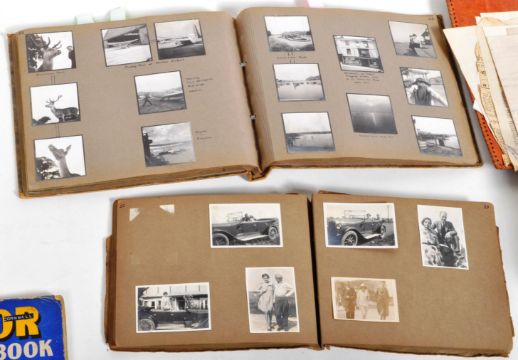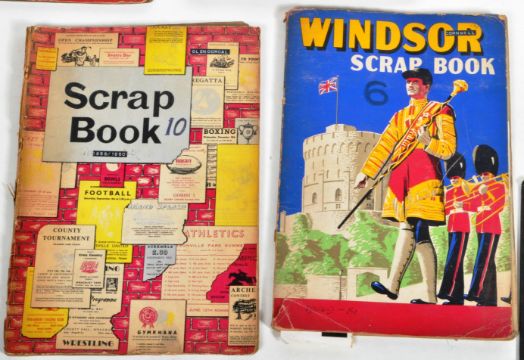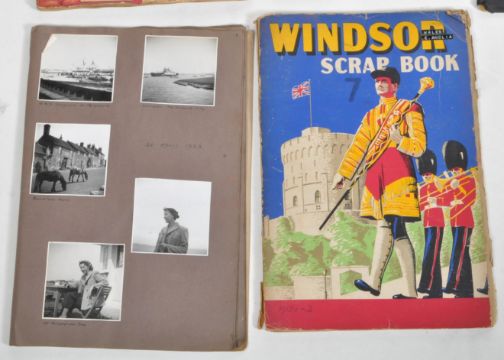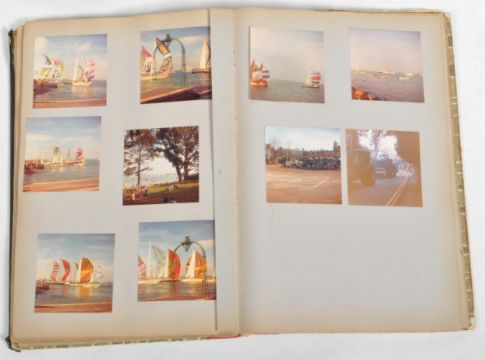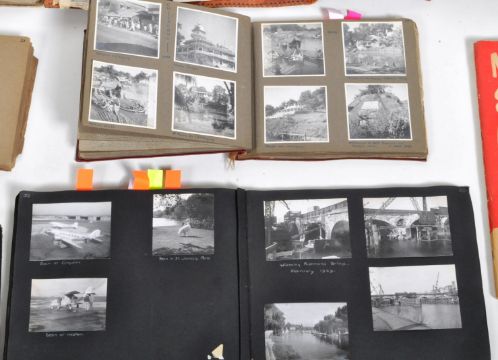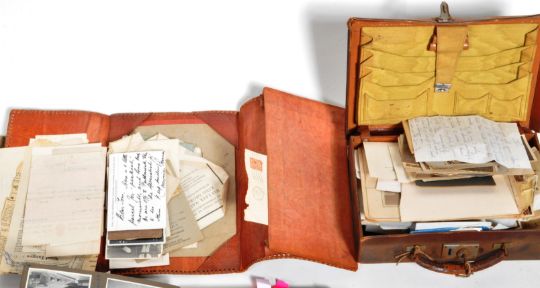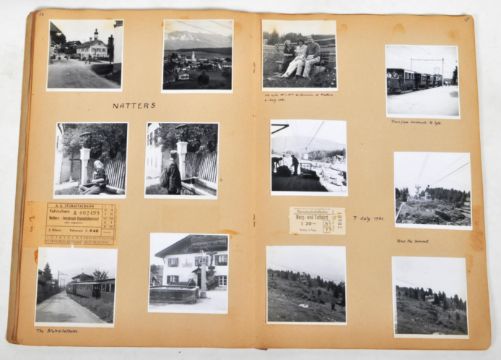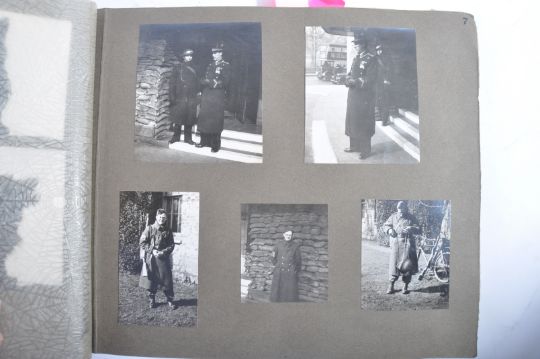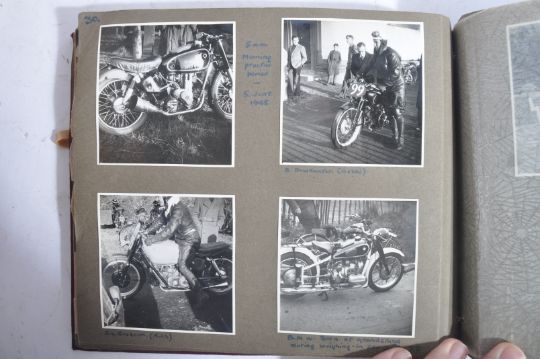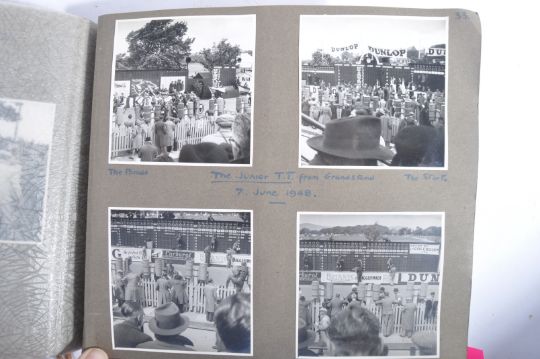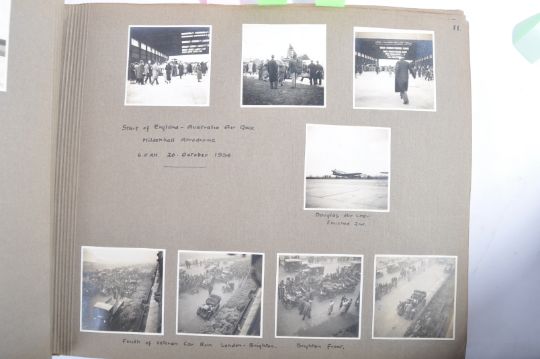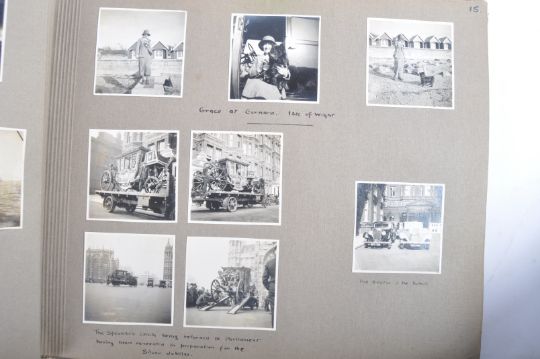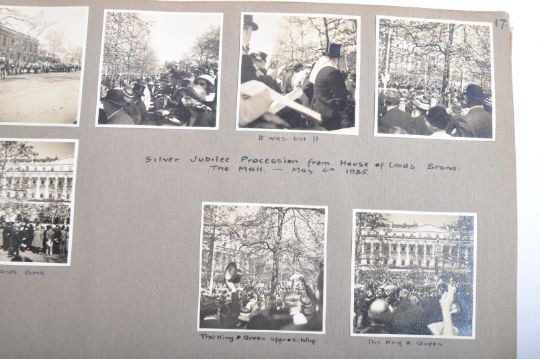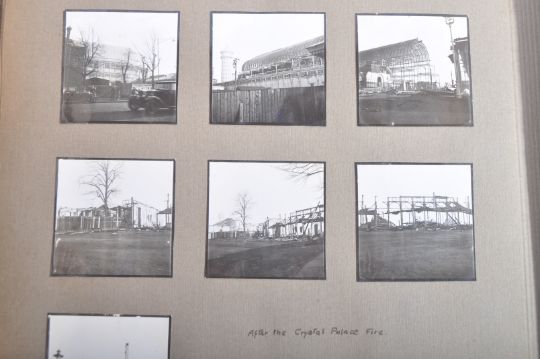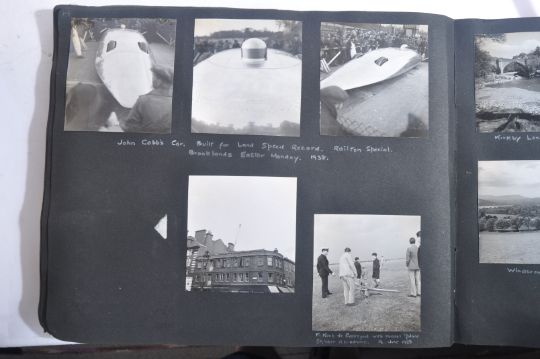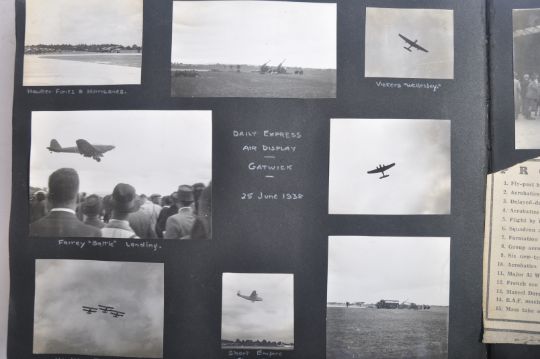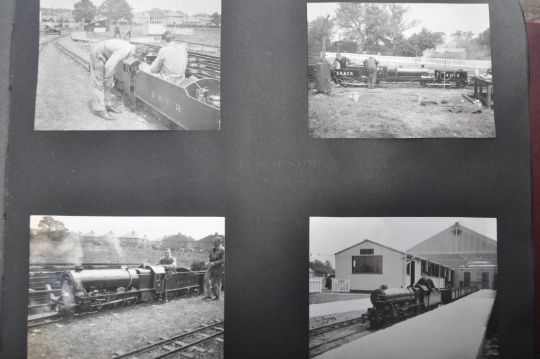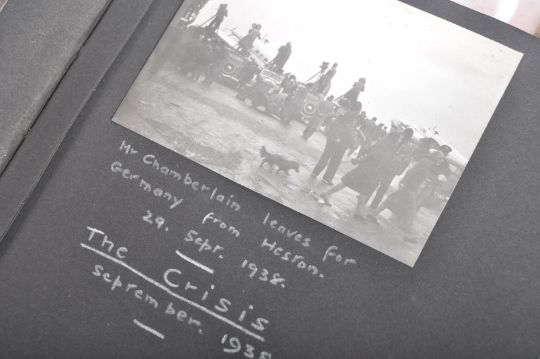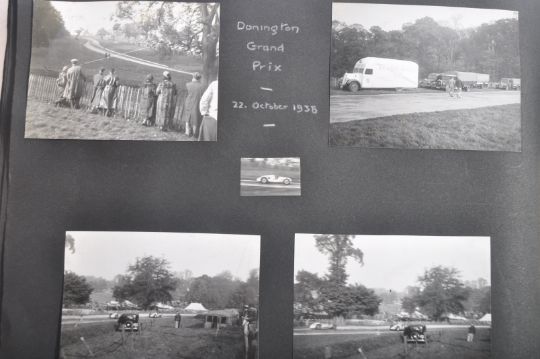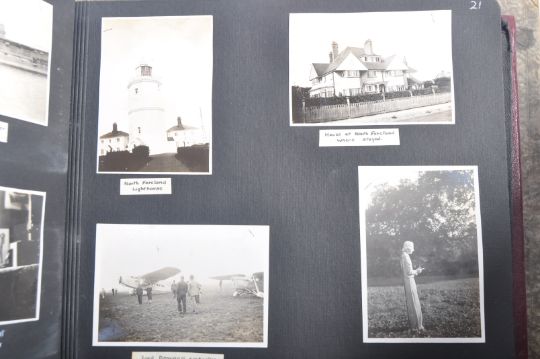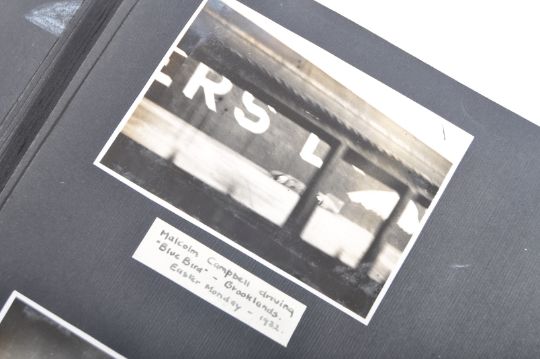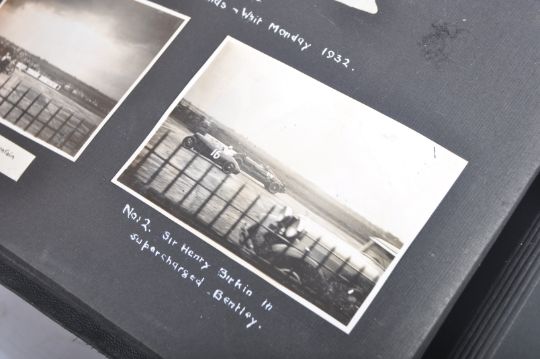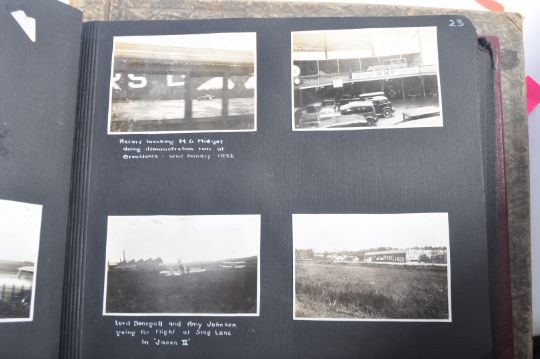 Click on the image to see full size
Use mouse wheel or two fingers to zoom in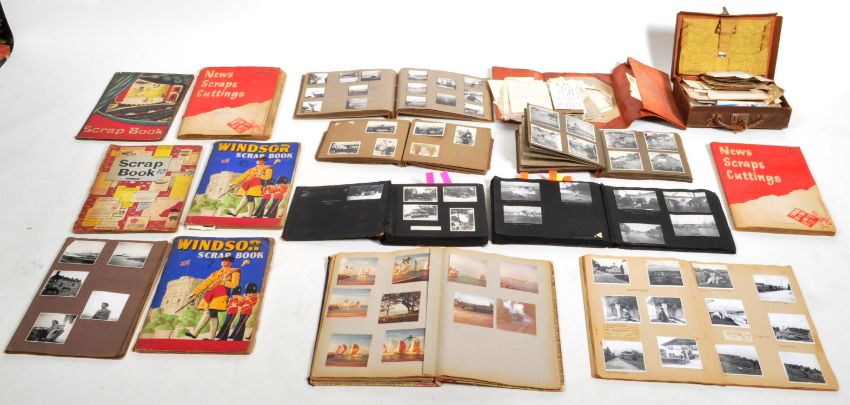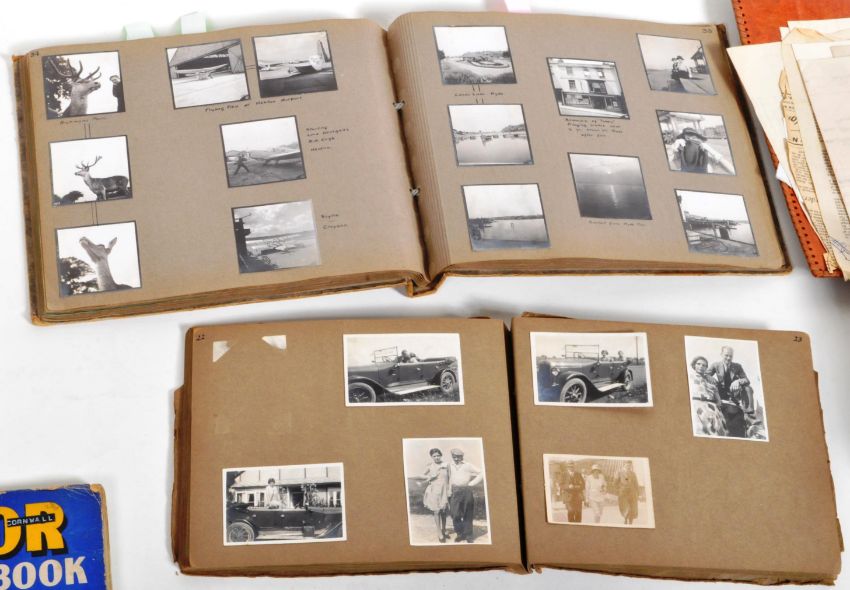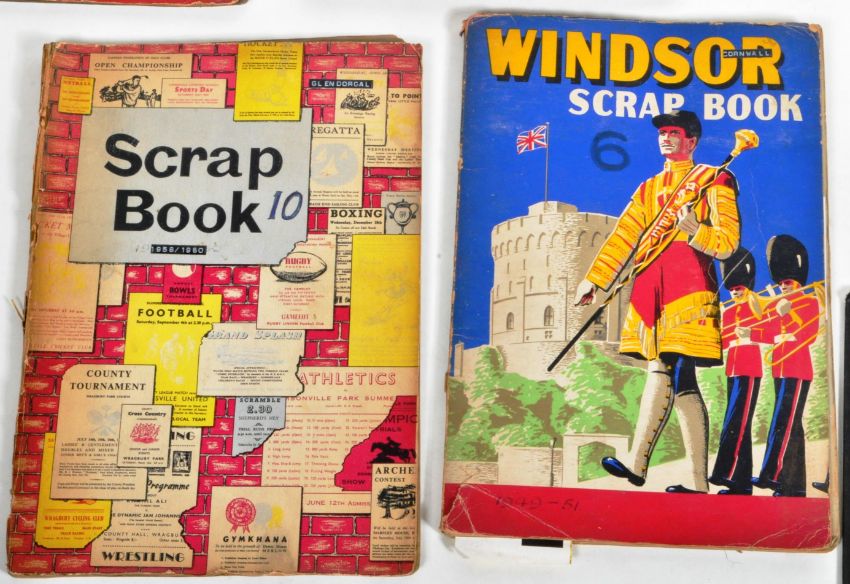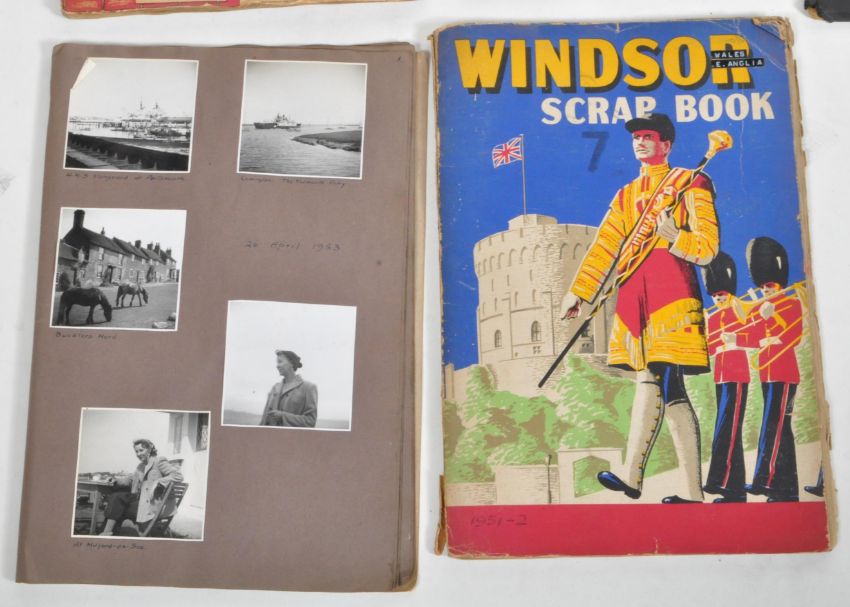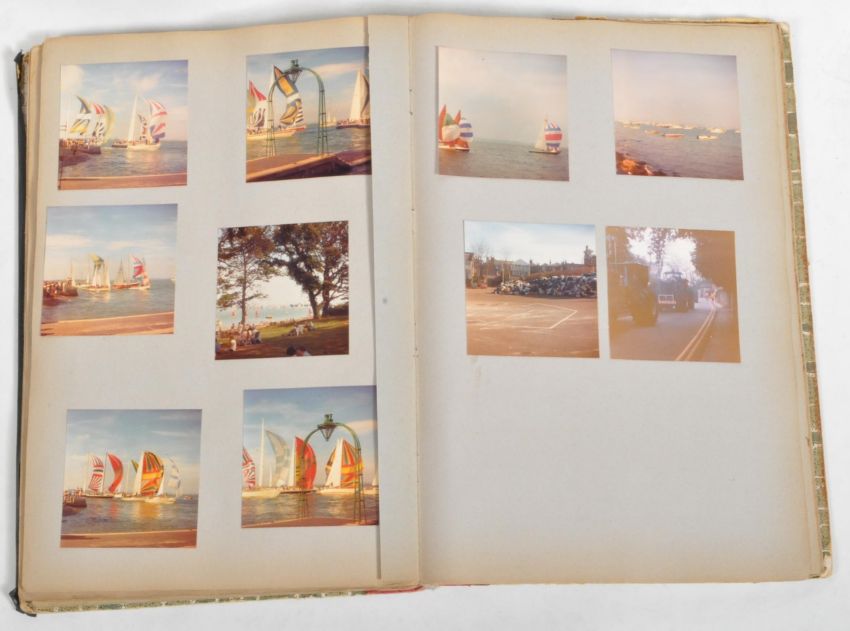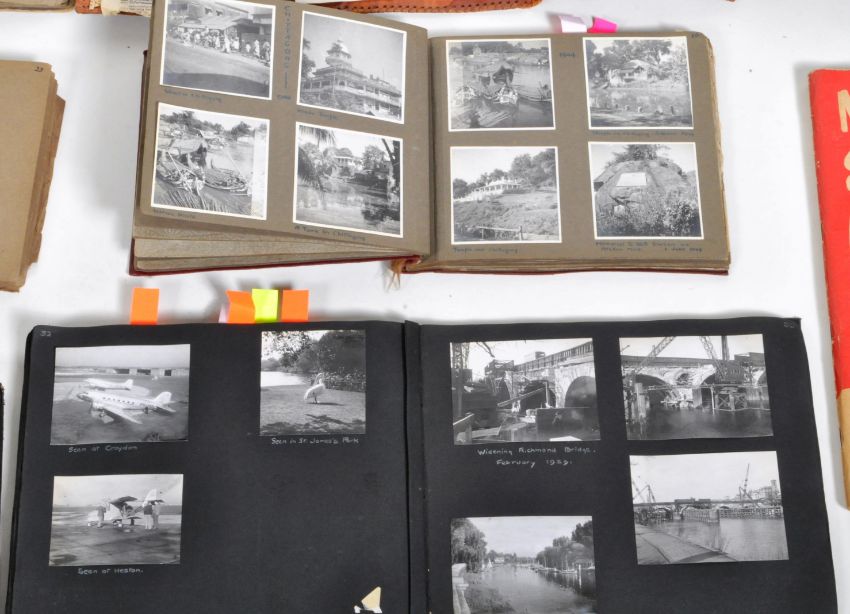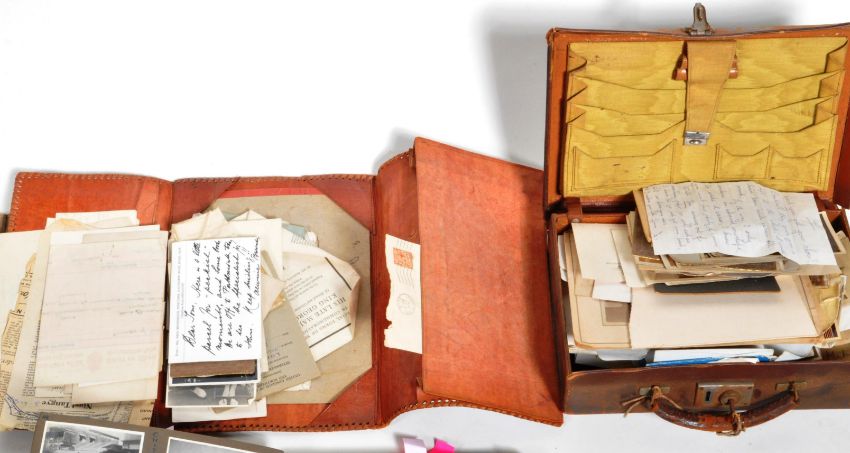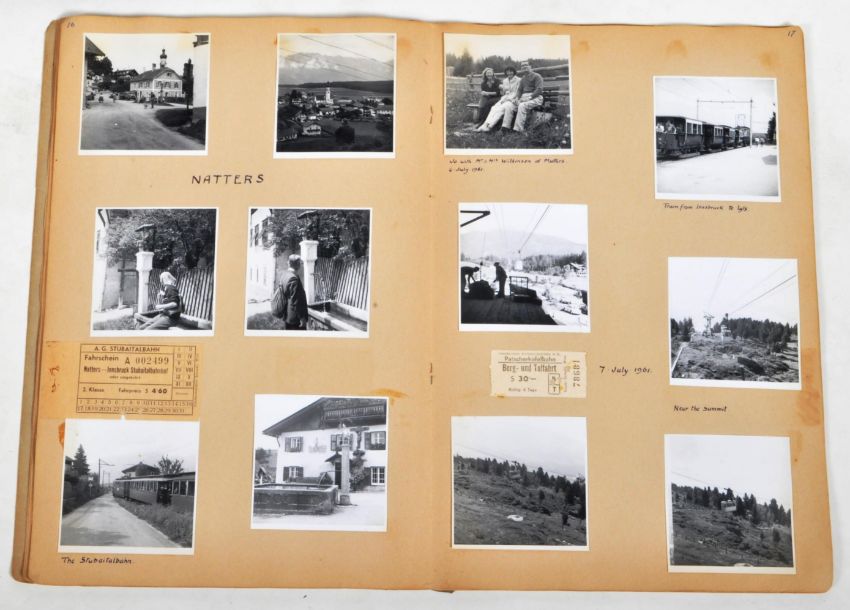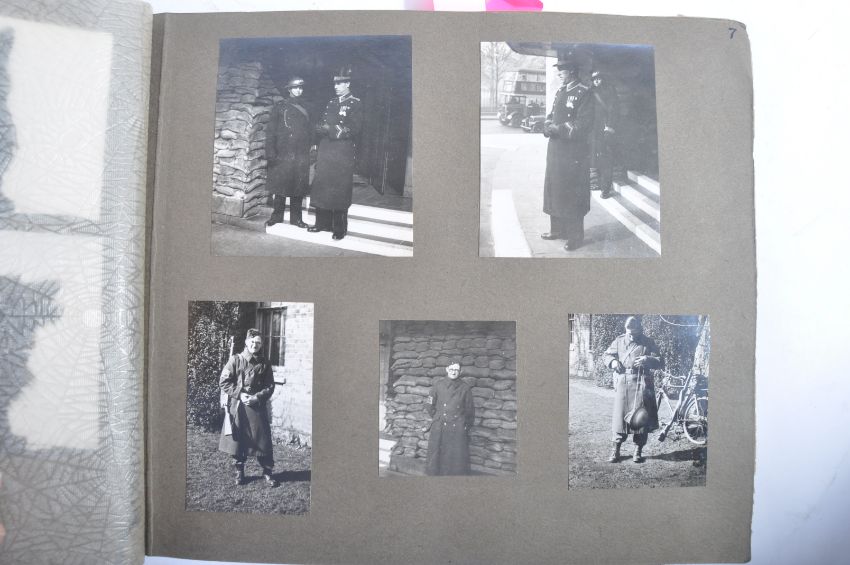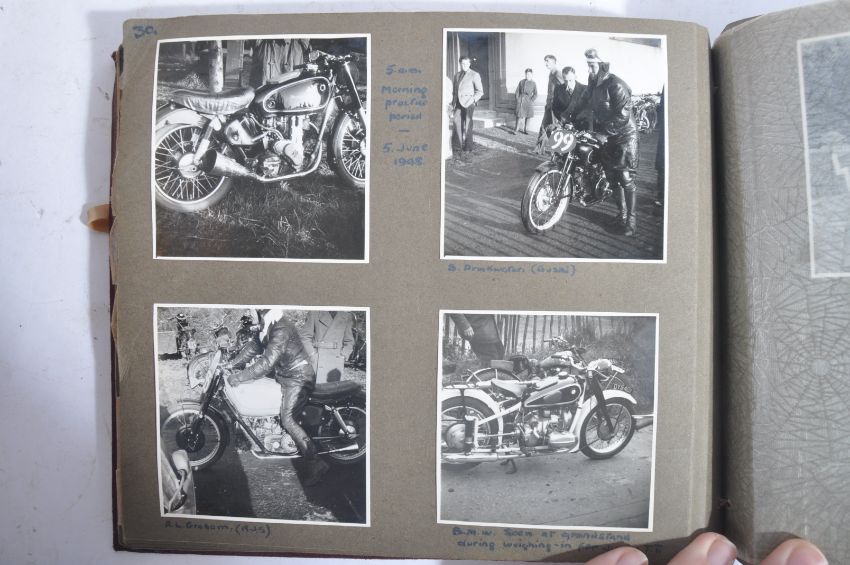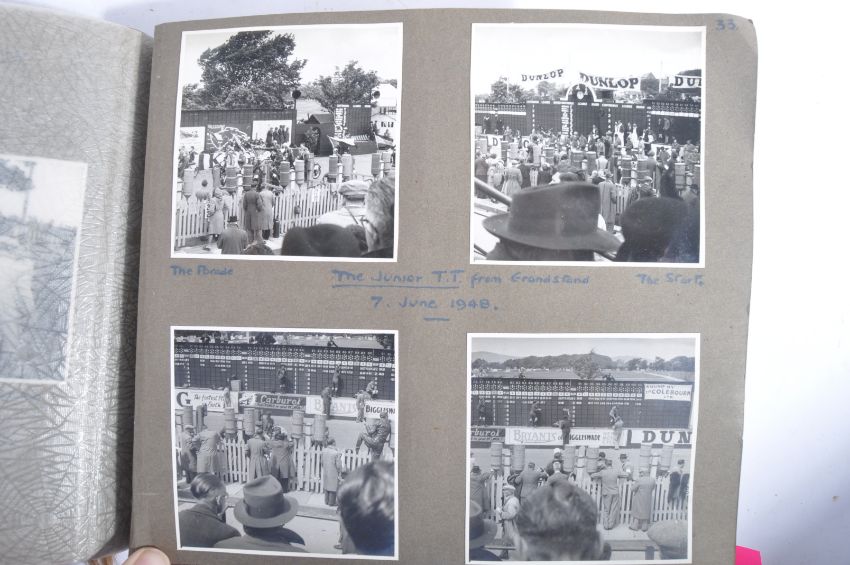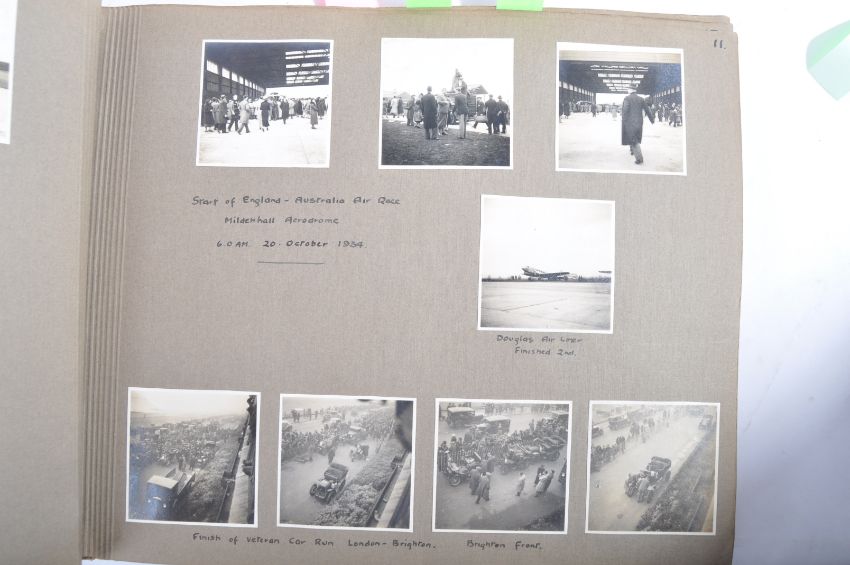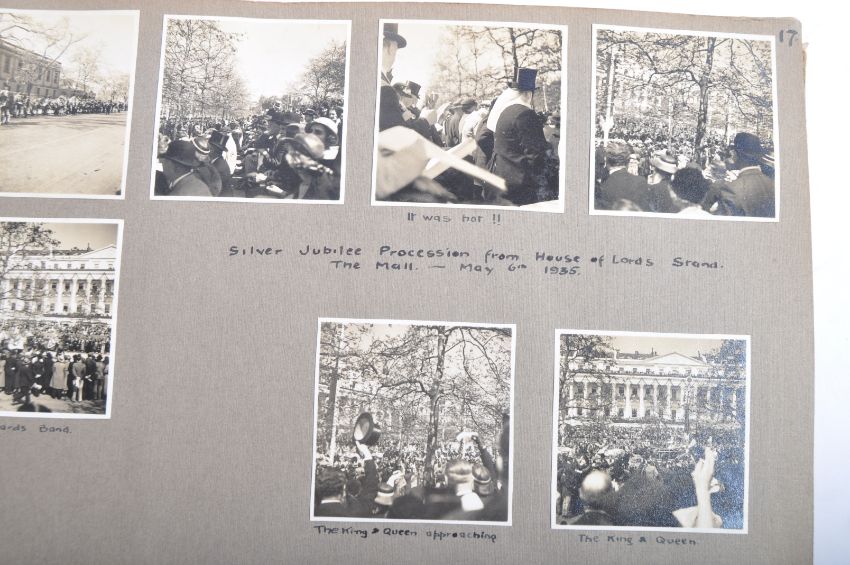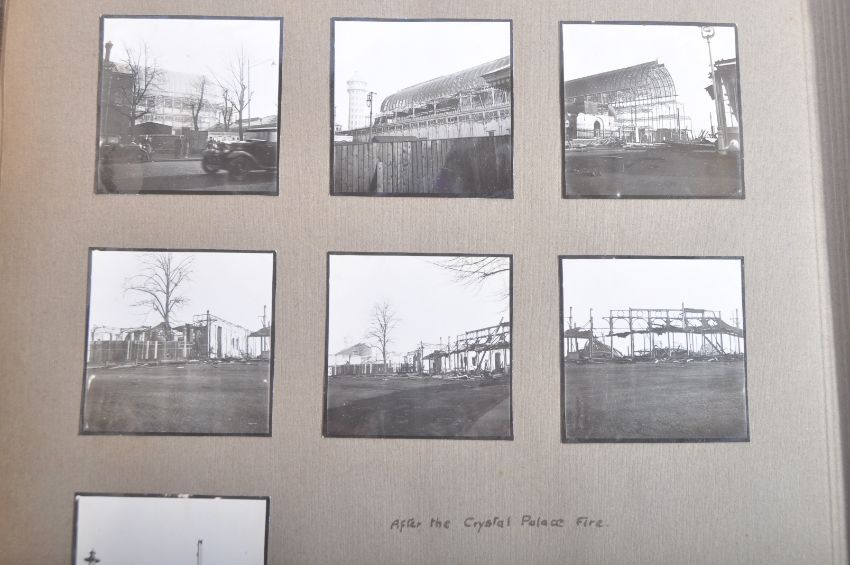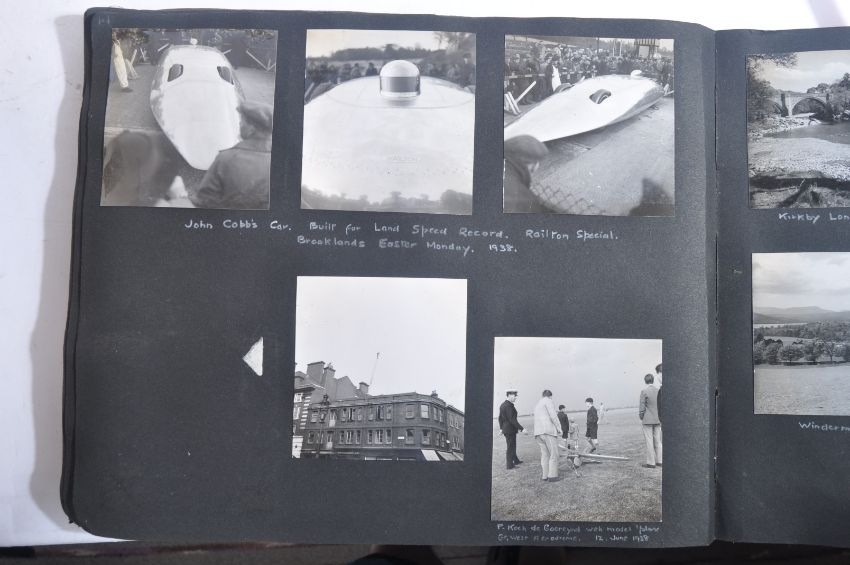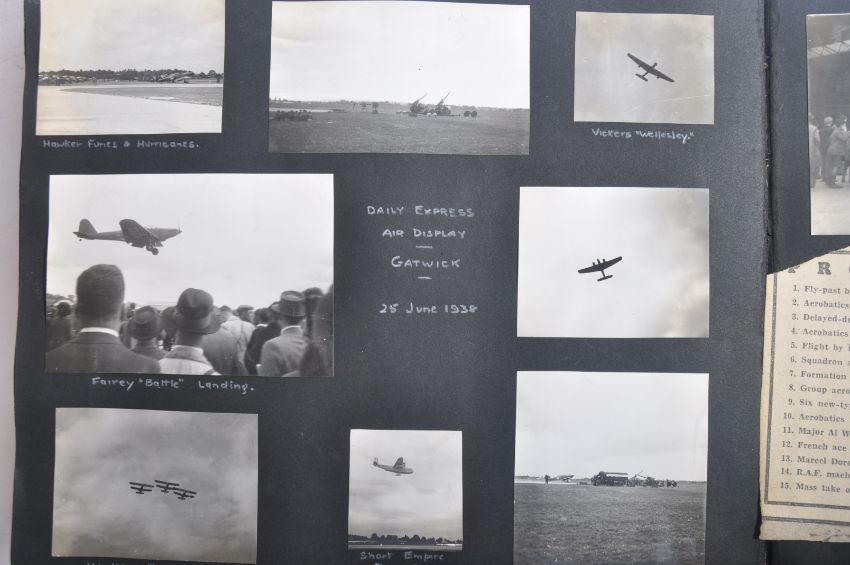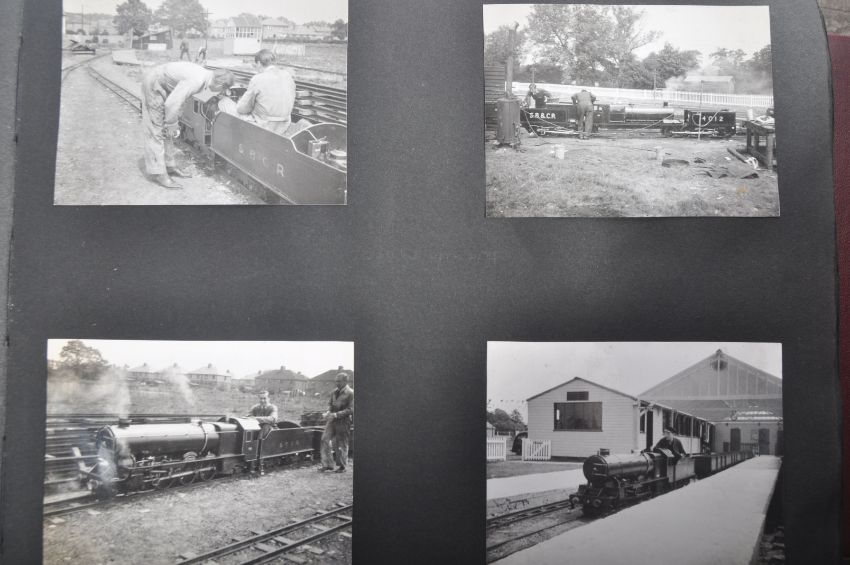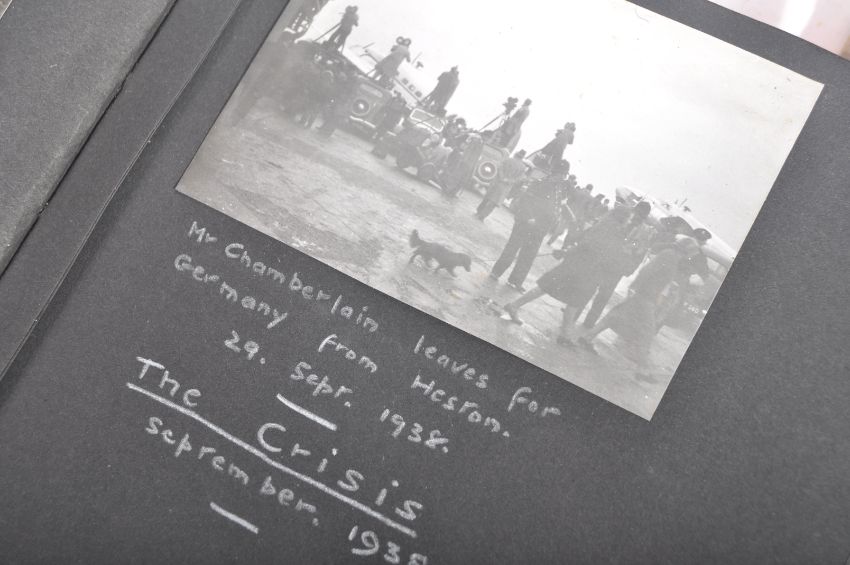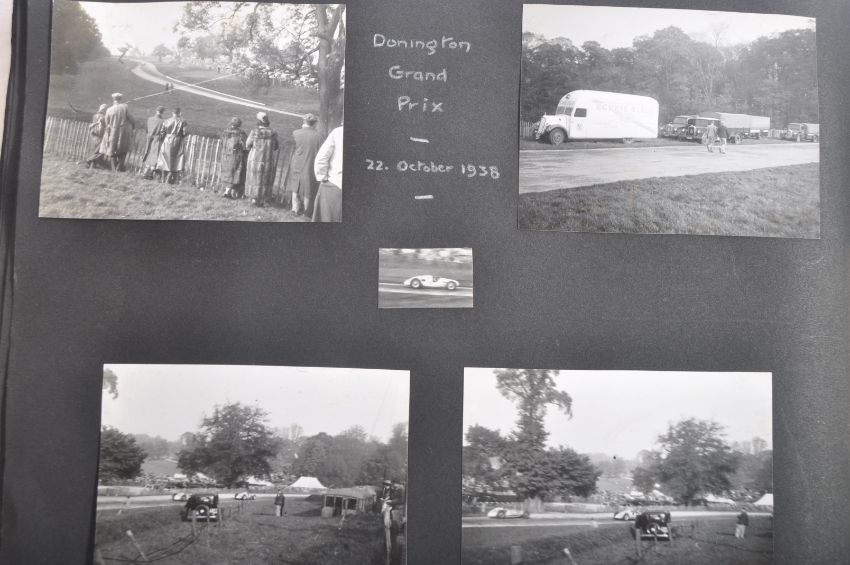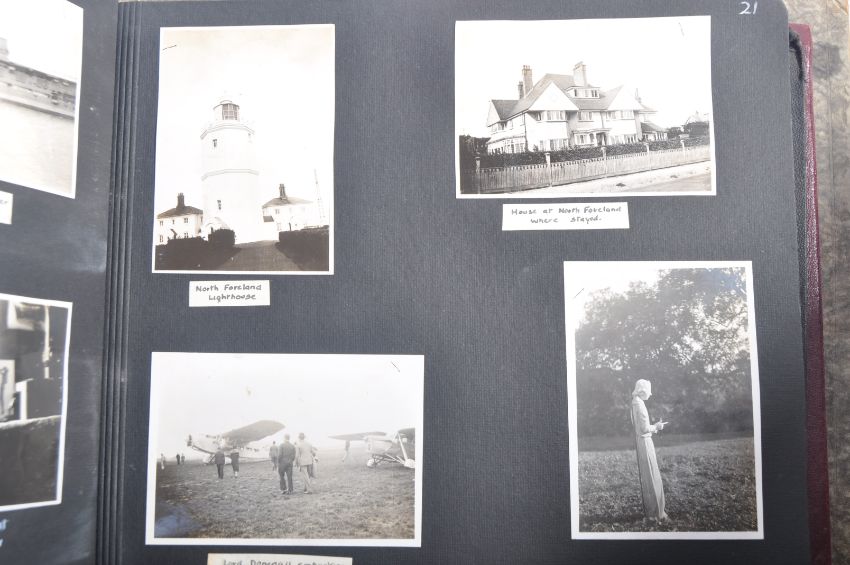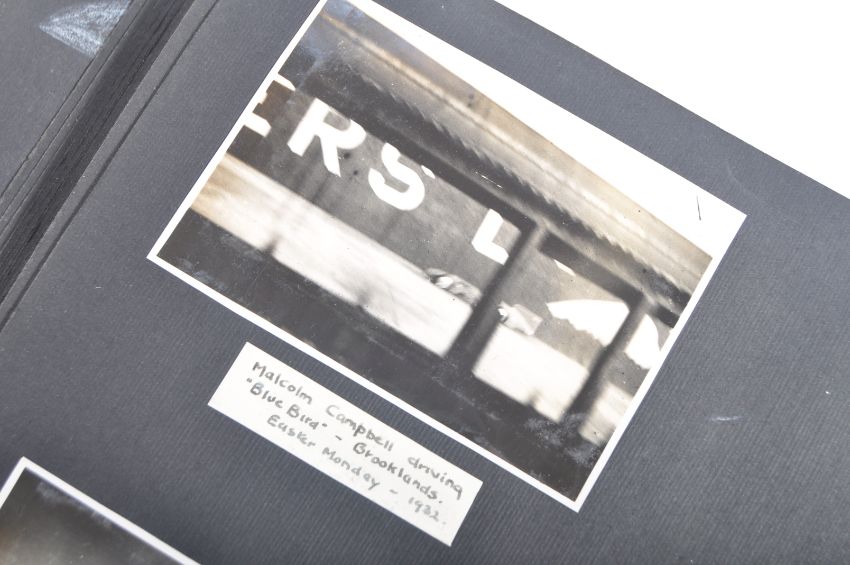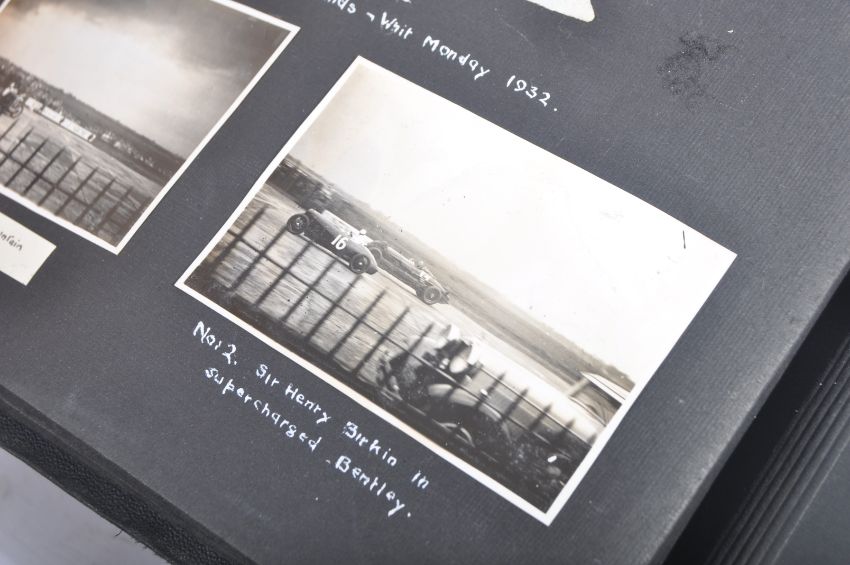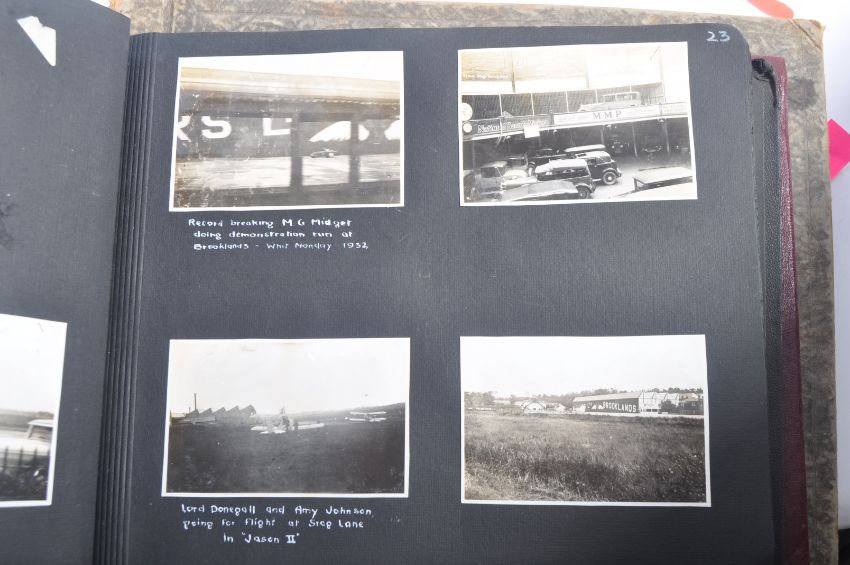 Live auction
Lot closed
Lot location
Bristol
The effects of one Tom P. Chiverton - Chauffeur to Lord Donegall in the 1930s to 1960s. The archive containing x13 well-filled photograph albums from the period - each detailing his journeys, holidays, events, etc - including a 1930s 'Aerial Tour' of Europe alongside Donegall, piloting his own craft. Of particular interest are the 1930s albums which show some interesting historical content. Many photographs annotated with dates and descriptions. Includes; - an album dated c1930 which shows: Flying Boat crash at Cannes, Ascot 1931, 'Attempt to beat Brooklands lap record on American Derby-Miller - Aug 3rd 1931', ' Graf Zeppelin at Hanworth Aerodrome - August 18th 1931 - Price 30 Guineas', views onboard SS Berengaria, 'Lord Donegall embarking on Ford all-metal plane at Heston Aerodrome', 'Malcolm Campbell driving Blue Bird - Brooklands, Easter Monday 1932 ', ' Lord Donegall and Amy Johnson going for flight in Jason II', ' Visit of Graf Zeppelin to Hanworth, July 1932' (LZ 127), ' Commencement Of Lord Donegall's Aerial Holiday Cruise round Europe, April 29th 1934'. Generally lots of motoring interest images - including racing at Brooklands, Donegall's vehicles and aeroplanes etc.- album c1937 - includes views of Chiverton in hospital after a broken leg, ' JCC International Trophy - Brooklands - 2nd August 1937', SS Aquitania, Chalcombe, 'John Cobb's Car - Built For Land Speed Record, Brooklands 1938,' 'Daily Express Air Display - Gatwick - 1938 ' (includes what appears to be a plane crash), 'The Surrey Border & Camberley Railway - Photos Taken By Lord Donegall' (showing Chiverton on a miniature locomotive), ' The Normandie ' (ship), 'Mr Chamberlain leaves for Germany from Heston, 29th Sep 1938' ' The Crisis ', ' Donington Grand Prix 22nd Oct 1938,' photographs showing early ARP preparations c1938, 'Demonstration At Hyde PArk Fire Brigade and Auxilliary Fire Brigade,' QSTS Queen Mary, a trip to Paris one month before the outbreak of War, and many others. - an earlier 1920s album showing many motor cars, x2 views of Zeppelin ' R33 ', family views etc- an album dated c1934, including ' American Boeing air liner at Heston - entered for England - Australia Air Race - Finished 3rd', photographs of the Coronation Coach being returned to Parliament in preparation for the Silver Jubilee, ' Silver Jubilee Procession from the House Of Lords Stand, The Mall, May 6th 1935,' ' Jubilee Review - Spithead - July 1935', ' Death of King George V - Funeral Procession from Hyde Park corner,' Brooklands racing, ' After the Crystal Palace Fire,' and many others. - an album c1940, includes views of: Chiverton in the Home Guard, building defences on the Home Front, appears to have joined the RAF towards the end of the War as many photographs from India present, views of Darjeeling, Bombay, post-war images of Douglas Isle Of Man motorcycles / racing, TT Races, 'Royal Aeronautical Society's Party,' ' Olympic Games 1948 Cycle Race', and others.The subsequent albums from the late 40s to 1960s show Chiverton's travels around the world - usually in a plane, on a motorcycle or by car. Some continue to feature Lord Donegall (including his Mini Cooper with personalised number plate). Hundreds of unique images included.Also supplied with the collection is a small suitcase of related ephemera - letters to / from Chiverton, photographs from later life, paperwork, booklets, menus etc etc. A unique archive of items. LOT UPDATE: 7/9/21 - Chiverton's diary from 1920-1923 has now been discovered as is included with the lot. The diary is completely filled out, largely day-by-day and ties nicely into some of the photographs described above.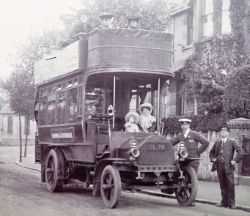 Venue address
1 Hanham Business Park
Memorial Road
Bristol
BS15 3JE
United Kingdom
UK POSTAGE PRICES
Worldwide Postage & Packing Available On ALL Items

UK Small packet(single small item eg: ring) £13.99+VAT
UK Standard Size(inc multiple lots) £16.99+VAT (per parcel)
UK Oversize Parcels (for large items eg; dinner service, guitars) £29.99+VAT (per parcel)
UK Jersey & Guernsey £29.99+VAT
Age Verification Service (UK)
Certain items (knives, weapons, alcohol etc) require age verification at the point of delivery in the form of photo ID. This is a legal requirement and an additional surcharge of £9.99+VAT is charged.
Air guns, antique guns and any firearms purchased overseas can only be sent using a professional service such as Pack & Send, Mailboxes, etc.
Entertainment Memorabilia Auction Small Packets
For single LP's, records and single autographed unframed photographs there is a 'small packet' postage charge of £9.99+VAT
EUROPEAN POSTAGE PRICES
Republic Of Ireland £34.99+VAT (per parcel)
Belgium, Luxembourg & Netherlands £34.99+VAT (per parcel)
Denmark, France, Germany & Monaco £39.99+VAT (per parcel)
Corsica £49.99 +VAT (per parcel)
Italy £35.99 +VAT (per parcel)
Spain £39.99+VAT (per parcel)
Greece & Portugal £49.99+VAT (per parcel
Austria, Czech Republic, Finland, Hungary, Lithuania, Norway, Poland, San Marino, Slovakia, Slovenia, Sweden, Switzerland, Estonia, Romania, Turkey, Latvia = £45.99+VAT (per parcel)
Bulgaria, Canary Islands, Gibraltar = £49.99+VAT (per parcel)
USA & Canada
from £30.00
Australia
from £40.00
Please contact us for a specific overseas quote. All postage dependant upon specific location.
UK FURNITURE DELIVERY
Southern England - from £70+VAT
Midlands & Surrounding - from £90+VAT
Northern England & Scotland from £150+VAT
ALL PRICES ON THIS PAGE ARE SUBJECT TO SPECIFIC LOCATION AND QUANTITY OF ITEMS PURCHASED AND SHOULD BE USED AS A GUIDE ONLY. For a specific quote, please contact us: info@eastbristol.co.uk
Conditions of Sale
East Bristol Auctions Ltd carries on business with bidders, buyers and all those present in the auction room and online prior to or in connection with a sale on the following General Conditions and on such other terms, conditions and notices as may be referred to herein.
1. Definitions
In these Conditions:
(a) 'Auctioneer'or 'we/us' means the firm East Bristol Auctions Ltd or its authorised auctioneer, as appropriate;
(b) 'Hammer price' means the level of bidding reached (at or above any reserve) when the auctioneer brings down the hammer;
(c) 'Terms of Consignment' means the stipulated terms and rates of commission on which East Bristol Auctions Ltd accepts instructions from sellers or their agents;
(d) 'Total amount due' means the hammer price in respect of the lot sold together with any premium. Value Added Tax chargeable and any additional charges payable by a defaulting buyer under these Conditions;
(e) 'sale proceeds' means the net amount due to the seller, being the hammer price for the lot sold less commission at the stated rate, Value Added Tax chargeable and any other amounts due to us by the seller in whatever capacity and however arising;
(f) 'You', 'Your' etc refers to the buyer as identified in condition 2;
(g) The singular includes the plural and vice versa as appropriate.
Information for buyers
2. Bidding Procedures and the Buyer
(a) Bidders are required to satisfy any security arrangements before entering the auction room to view or bid, and to register their particulars immediately on purchasing their first lot on the day.
(b) The maker of the highest bid accepted by the auctioneer conducting the sale shall be the buyer at the hammer price and any dispute about a bid shall be settled at the auctioneer's absolute discretion by re-offering the Lot during the course of the auction or otherwise.
(c) Bidders shall be deemed to act as principals.
(d) Our right to bid on behalf of the seller is expressly reserved up to the amount of any reserve and the right to refuse any bid is also reserved.
3. Increments
Bidding increments shall be at the auctioneer's sole discretion.
4. The Purchase Price
The buyer shall pay the hammer price together with a premium thereon of 19% + VAT on the premium at the rate imposed by law.
ARTISTS RE-SALE RIGHT. Buyers of the re-sold art of living artists will be charged the royalty where applicable. Currently this is 4% on any item sold at 1000 Euros or over, diminishing about 50,000 Euros. VAT is not applicable. Further details can be obtained from our office.
5. Value Added Tax
Valued Added Tax on the hammer price is imposed by law on all items affixed with an asterisk. Value Added Tax is charged at the appropriate rate prevailing by law at the date of sale and is payable by buyers of relevant Lots. (Please refer to 'Information for Buyers' for a brief explanation of the VAT position)
6. Payment
We accept payment via the telephone and also provide a secure payment portal through our website for your own security. Bidders leaving successful commission bids with us via telephone or email should be aware that payment will be made via this service. Online bidders, whether live or by automated online commission can pay via these services also. We do not accept Credit Card payments over £200 in any instance, we also no longer accept Cheques as a form of payment. Full payment terms can be found on your invoice.
(1) Immediately a Lot is sold you will:
(a) Give to us, if requested, proof of identity, and
(b) Pay to us the total amount due in case or in such other way as is agreed by us.
(2) Any payments by you to us may be applied by us towards any sums owing from you to us on any account whatever without regard to any directions of you or your agent whether expressed or implied.
7. Title and Collection of Purchase
Ample opportunity is given for inspection. Each purchaser, by making a bid for a lot, is deemed to have knowledge of all the Conditions of Sale and to have satisfied themselves as to the physical condition and accuracy of the description of the lot, including, but not restricted to, whether the lot is damaged, or has been repaired. No refund shall be granted on any lot for matters arising to condition.
Collection of won lots from our saleroom must take place within 5 workings days of the sale date unless there has been strict and written prior agreement. Please note that we do not have the capacity to store items for customers for more than this period of time without prior agreement. Uncollected items will be subject to storage charges of £5 per lot per day after the 5th working day. By agreeing to bid with us you agree to these terms and we reserve the right to charge for storage at our discretion by use of credit / debit card held on file, or upon collection by customer, or by telephone so as to release to carriers. If storage fees amount in value to more than the value of the lots purchase price and/or the low estimate, we the auctioneer take ownership of the lot(s) to recover the storage fees.
(1) The ownership of any Lots purchased shall not pass on to you until you have made payment in full to us of the total amount due.
(2) You shall at your own risk and expense take away any lots that you have purchased and paid for no later than five working days following the day of the auction after which you shall be responsible for any removal, storage and insurance charges.
(3) No purchase can be claimed or removed until it has been paid for.
8. Remedies for Non-Payment or Failure To Collect Purchase
(1) If any Lot is not paid for in full and taken away in accordance with these Conditions or if there is any other breach of these Conditions, we as agent for the seller shall at our absolute discretion and without prejudice to any other rights we may have, be entitled to exercise all or any of the following rights and remedies:
(a) To proceed against you for damages for breach of contract;
(b) To rescind the sale of that Lot and/or any other Lots sold by us to you;
(c) to resell the Lot (by auction or private treaty) in which case you shall be responsible for any resulting deficiency in the total amount due (after crediting any part payment and adding any resale costs). Any surplus so arising shall belong to the seller;
(d) To remove, store and insure the Lot at your expense and, in the case of storage, either at our premises or elsewhere, at the cost of £5 per lot per day;
(e) To deduct this cost from any registered credit or debit card submitted for registration at time of bidding
(f) To retain that or any other Lot sold to you until you pay the total amount due;
(g) To reject or ignore bids from you or your agent at future auctions or to impose conditions before any such bids shall be accepted;
(h) to apply any proceeds of sale of other Lots due or in future becoming due to you towards the settlement of the total amount due and to exercise a lien on any of your property in our possession for any purpose.
(2) We shall, as agent for the seller and on our own behalf pursue these rights and remedies only so far as is reasonable to make appropriate recovery in respect of breach of these conditions.
9. Third Party Liability
All members of the public on our premises are there at their own risk and must note the layout of the accommodation and security arrangements. Accordingly, neither the auctioneer nor our employees or agents shall incur liability for death or personal injury (except as required by law by reason of our negligence) or similarly for the safety of the property of persons visiting prior to or at a sale.
10. Commission Bids
Whilst prospective buyers are strongly advised to attend the auction personally or via an online bidding platform and are always responsible for any decision to bid for a particular Lot and shall be assumed to have carefully inspected and satisfied themselves as to its condition, we will if so instructed clearly and in writing execute bids on their behalf. Neither the auctioneer nor our employees or agents shall be responsible for any neglect or default in so doing or failing to do so. Where two or more commission bids at the same level are recorded we reserve the right in our absolute discretion to prefer the first bid so made.
11. Warranty of Title And Availability
The seller warrants to the auctioneer and you that the seller is the true owner of the property consigned or is property authorised by the true owner to consign it for sale and is able to transfer good and marketable title to the property free from any third party claims.
12. Agency
The auctioneer normally acts as agent only and disclaims any responsibility for default by sellers or buyers.
13. Descriptions
(1) Whilst we seek to describe lots accurately, it may be impractical for us to carry out exhaustive due diligence on each lot. Prospective buyers are given ample opportunities to view, inspect and ask for written condition reports before any sale and they (and any independent experts on their behalf) must satisfy themselves as to the accuracy of any description applied to the lot. Prospective buyers also bid on the understanding that, inevitably, representations or statements by us as to authorship, genuineness, origin, date, age, provenance, condition, size or estimated selling price involve matters of opinion. Neither we the auctioneer nor our employees or agents nor the seller accept liability for the correctness of such opinions and all conditions and warranties, whether relating to description, condition, size or quality of lots, express, implied or statutory, and hereby excluded. All lots remain sold completely 'as is' - irrespective of any description, and no refund shall be issued on any lot where matters arising to condition are raised.
(2) Private treaty sales made under these Conditions are deemed to be sales by auction for purposes of consumer legislation.
(3) Electrical items - any and all electrical items (including, but not limited to, lamps, toys, furniture etc) are sold as decorative 'antique' or 'curio' objects ONLY and must only be used after a qualified electrician / professional has inspected the item for safety. East Bristol Auctions and its agents are not liable for any injury, damage or loss relating to use of any electrical item. No guarantees, warranties or similar are implied nor given.
(4) Measurements and Sizes - any measurements or stated sizes should be assumed as 'approximate' where given, and buyers are specifically requested to check sizes match their expectations prior to bidding.
14. Online Bidding
East Bristol Auctions Ltd. offer catalogues across multiple online bidding websites. Each of these websites levies a different charge for this service and any prospective bidders are asked to satisfy themselves as to those charges on each specific website.
In completing the bidder registration on www.the-saleroom.com and providing your card details and unless alternative arrangements are agreed with East Bristol Auctions Ltd. you:
1. authorise East Bristol Auctions Ltd., if they so wish, to charge the card given in part or full payment, including all fees, for items successfully purchased in the auction via the-saleroom.com or other website, and
2. confirm that you are authorised to provide these card details to East Bristol Auctions Ltd. through www.the-saleroom.com (or other website) and agree that East Bristol Auctions Ltd. are entitled to ship the goods to the card holder name and card holder address provided in fulfilment of the sale.
15. Anti-Money Laundering
Under the regulations set by the Financial Conduct Authority (FCA), East Bristol Auctions is required to provide appropriate identity evidence for HMRC when transactions take place over £10000. This is to prove that all buyers seeking to purchase high value items from East Bristol Auctions are who they say they are.
Buyers registering to bid via Saleroom.com and East Bristol Auctions own website will register to bid initially by entering an email address ( subject to validating) a current address of residence along with a valid debit or credit card that details will be matched against each other to verify your identity and to protect us from theft and fraud, complying with AML laws. Successful bidders of items over £10000 using internet bidding will be sent an email after purchase asking for these, which includes details on what kind of documents we can accept. Please note, in some instances, if we are unable to verify your identity as a bidder on items of a value over £10000, we will possibly not be able to process your bid and it may be cancelled as a result. Once your identity has been verified, we will inform you via email.
Buyers submitting telephone bidding requests and commission bids prior to the auction will also be subject to the above requirements and document requests prior to bidding thus satisfying both East Bristol Auctions and the current regulations for the Money Laundering Act .
East Bristol Auctions will be required by law to meet current compliance requirements for example, under UK AML (anti-money laundering) HMRC laws, or individual countries customs laws and regulations and disclose this information
Bidding: In-person bidding is now available once again at our auctions. Turn up, register at reception and away you go! You can also still bid online across one of the many platforms that host our sales. Telephone bids, commission bids are also possible. Please note - we have a strict mask-wearing policy in place to help protect other customers, and our staff. Please be considerate of this when visiting our saleroom.
Viewing; Viewing day is always the day before the sale. At present we are offering two types of viewing:
- TYPE A: BY APPOINTMENT - this is between the hours of 9am and 11am and can be booked in half-hour slots only. This is for those customers who may feel vulnerable / uncomfortable in a room of people. Online-only / Timed auctions are viewing by appointment only.
- TYPE B: STANDARD VIEWING - turn up with no appointment needed at any time between 11am-5pm. Mask wearing is requested, and hand sanitizer is available at all entrances / exits.
Please Note - whilst visiting us, our kitchen will remain closed to members of the public. It is recommended that customers bring their own refreshments where needed.
Storage; We politely request that all invoices are settled within 5 days of the auction. We are unable to store items for longer than this period. Any items outstanding after this period (where delivery, collection or postage has not been arranged) will be moved to offsite storage and charged at a rate of £5 per lot, per day. We are open for click and collect (see above) and our nationwide courier service is fully operational.
By signing up to bid - you are agreeing to the standard terms of sale as outlined, and are politely reminded that no guarantees of condition are given and all items remain sold 'as is' irrespective of any description, and no warranties or guarantees are offered on any item, in any sale. Ample opportunity to obtain condition reports, and to view items (both in-person and virtually), has been given.
IMPORTANT NOTICE - given the current climate, auction and viewing details may be subject to change at very short notice. We strongly advise checking with us prior to making a long journey that these details are correct. The safety of our customers and staff is paramount.
Buyers Premium 19% (+VAT)

Lots purchased online with the-saleroom.com will attract an additional charge for this service in the sum of 4.95% of the hammer price plus VAT.

We accept debit and credit cards online, or over the phone. Online bidders, whether live or by automated online commission, must have a registered card on The-Saleroom.com payment portal. If no contact has been made within 7 days, payment will be automatically taken from the registered card.

Credit or debit card payment in person in our Bristol offices is always welcome.

Ample opportunity is given for inspection. Each purchaser, by making a bid for a lot, is deemed to have knowledge of all the Conditions of Sale and to have satisfied themselves as to the physical condition and accuracy of the description of the lot, including, but not restricted to, whether the lot is damaged or has been repaired. We offer packing and shipping quotes for all items worldwide, visit eastbristol.co.uk for details and pricing. For a specific overseas quote, please contact us.

VAT: (*) indicates that VAT is payable by the purchaser at the standard rate on the hammer price as well as being an element in the buyer`s premium.

CONDITION REPORTS : (**) Detailed condition reports for all lots are available upon direct request to the Saleroom

Delivery, Postage and Packing available worldwide on all items. See www.eastbristol.co.uk for details