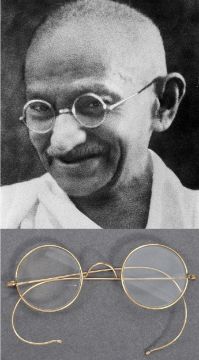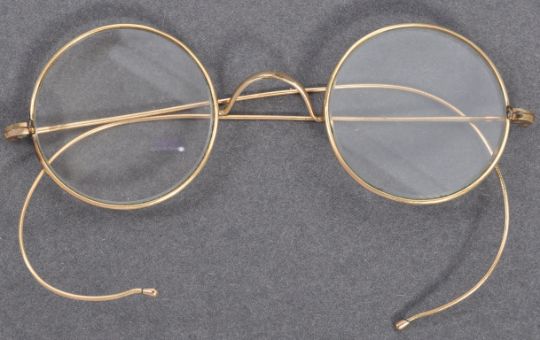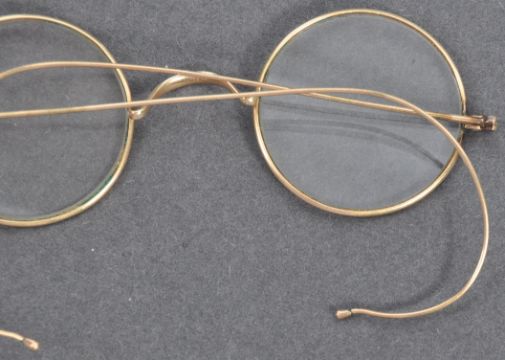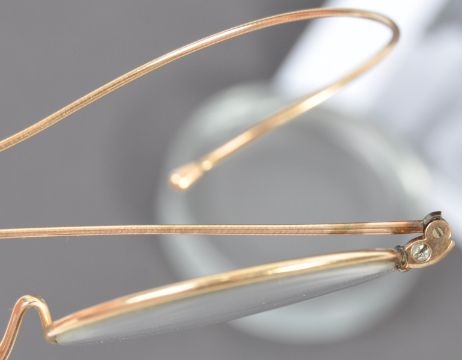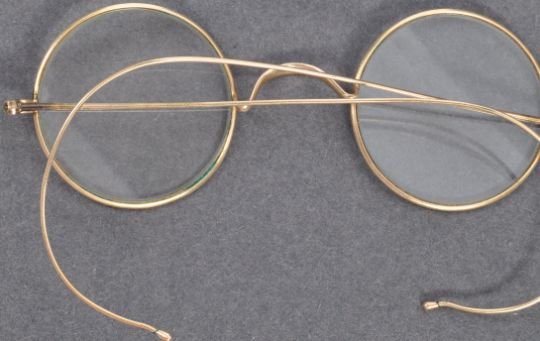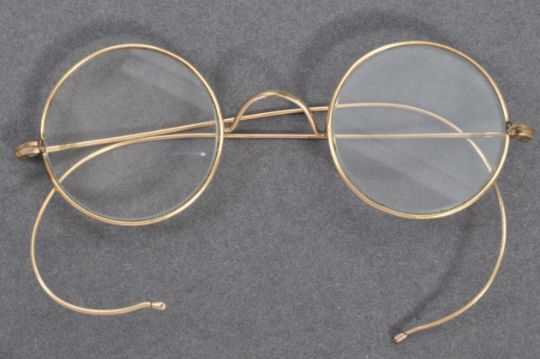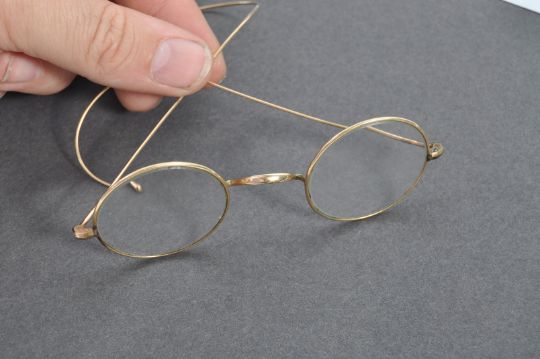 Click on the image to see full size
Use mouse wheel or two fingers to zoom in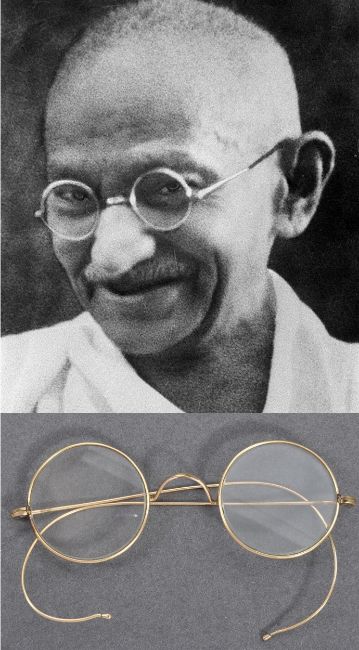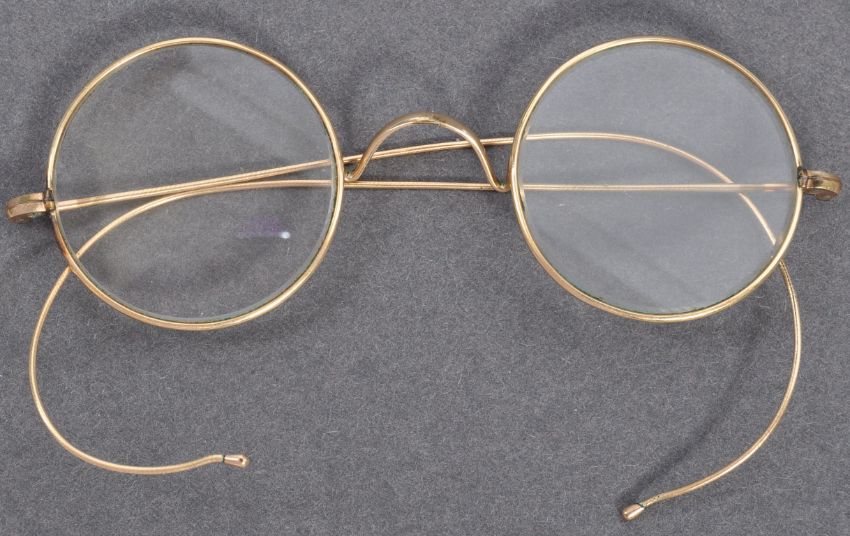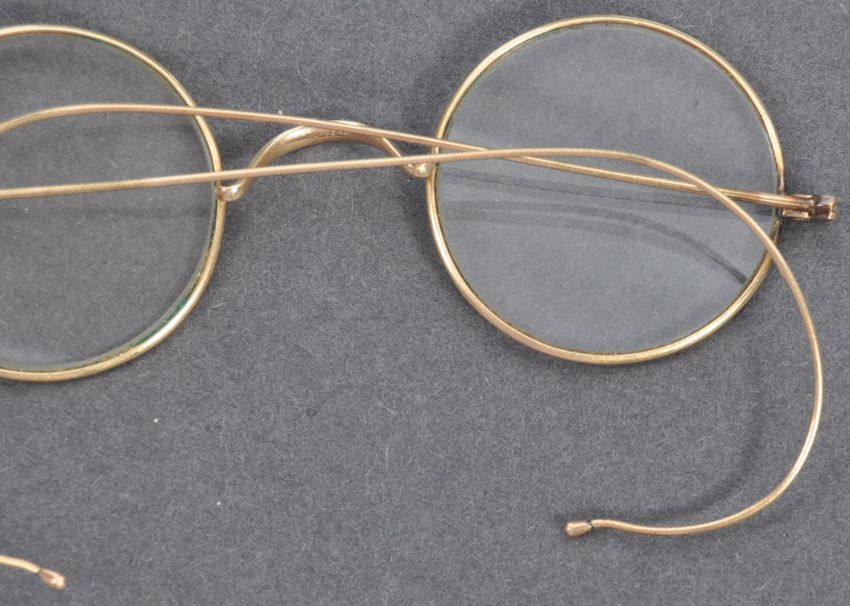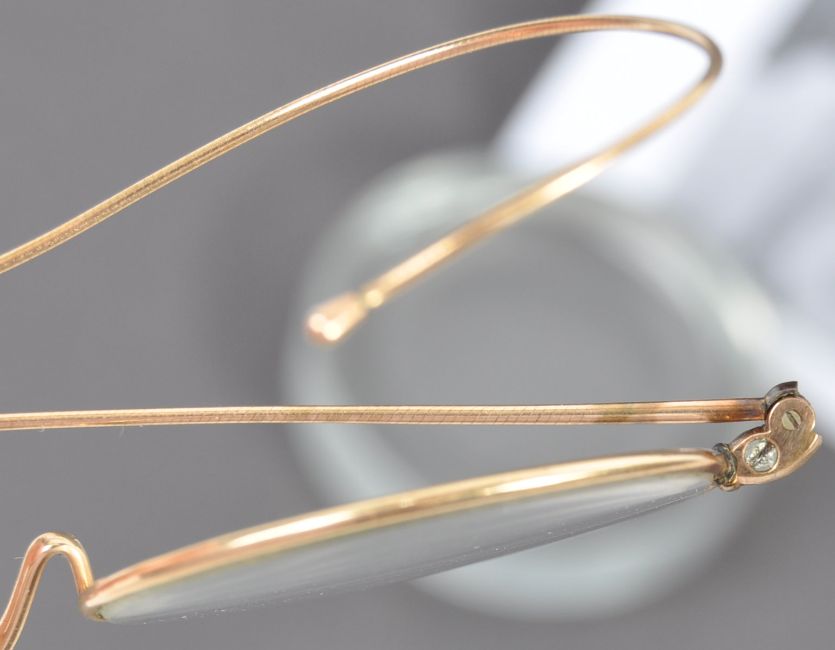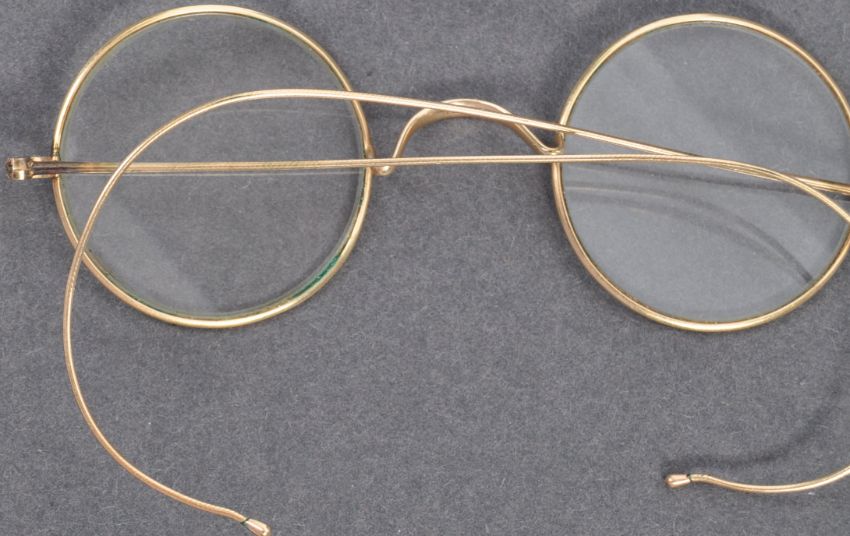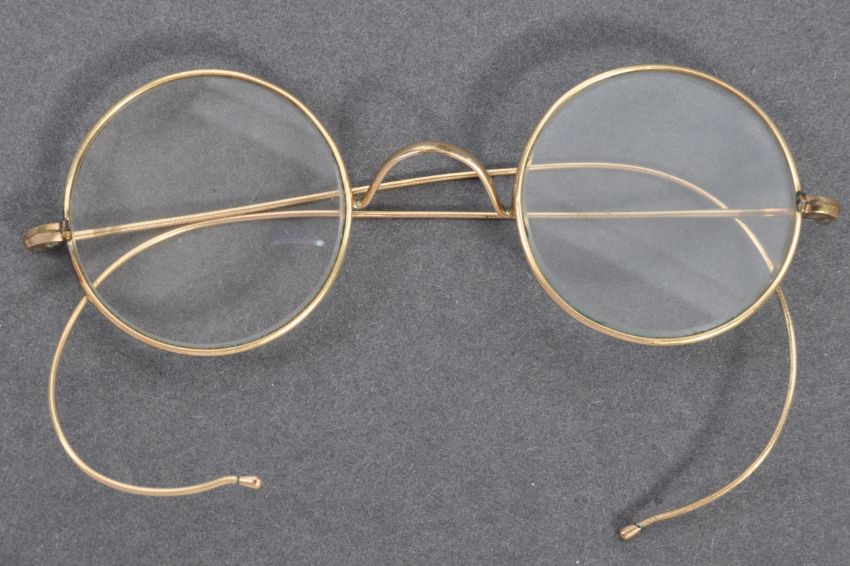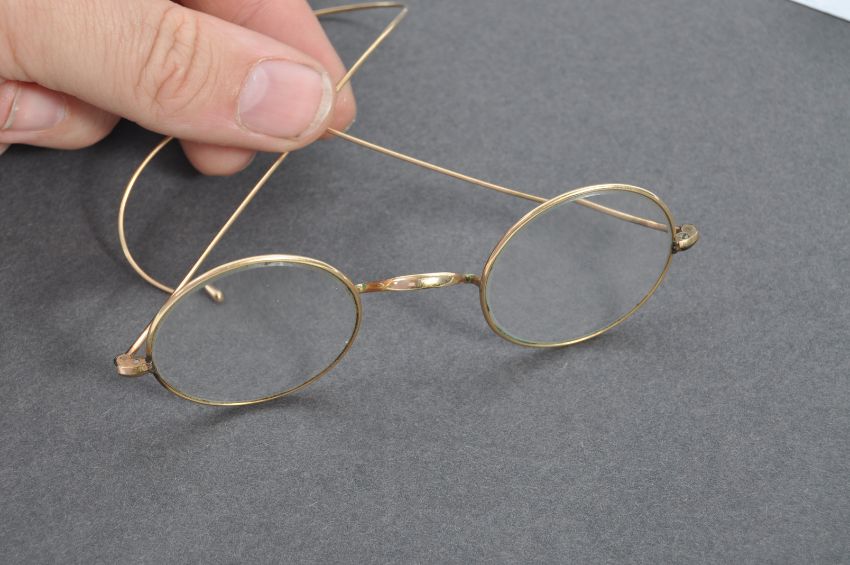 Live auction
Lot closed
Lot location
Bristol
Mahatma Gandhi (1869-1948) - A pair of early 20th century c1920 gold plated circular rimmed spectacles by repute owned and worn by Mahatma Gandhi. The spectacles of usual form, with sprung gold plated arms and prescription lenses. Jointed by a gold plated nose bar. The spectacles formed an important and somewhat iconic part of Gandhi's overall appearance. It was known that he would often give away his old or unwanted pairs to those in need or those who had helped him. A rare and important pair of spectacles. Provenance; given to the vendor's Uncle c1920-1930 by Gandhi whilst in South Africa. The uncle working for British Petroleum at the time and was stationed in South Africa, and it can be presumed that these were gifted by way of thanks from Gandhi for some good deed. A note from the vendor is included. Mohandas Karamchand Gandhi (2 October 1869 – 30 January 1948) was an Indian lawyer, anti-colonial nationalist and political ethicist who employed nonviolent resistance to lead the successful campaign for India's independence from British Rule, and in turn inspire movements for civil rights and freedom across the world. Gandhi's birthday, 2 October, is commemorated in India as Gandhi Jayanti, a national holiday, and worldwide as the International Day of Nonviolence. Gandhi is commonly, though not formally, considered the Father of the Nation in India, and was commonly called Bapu (Father).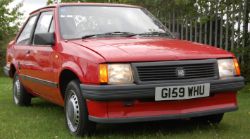 Venue address
1 Hanham Business Park
Memorial Road
Bristol
BS15 3JE
United Kingdom
POSTAGE PRICES
Worldwide Postage & Packing Available On ALL Items

UK Small packet(single small item eg: ring) £13.99+VAT
UK Standard Size(inc multiple lots) £16.99+VAT (per parcel)
UK Oversize Parcels (for large items eg; dinner service, guitars) £29.99+VAT (per parcel)
UK Jersey & Guernsey £29.99+VAT
Europe
Republic Of Ireland £34.99+VAT (per parcel)
Belgium, Luxembourg & Netherlands £34.99+VAT (per parcel)
Denmark, France, Germany & Monaco £39.99+VAT (per parcel)
Corsica £49.99 +VAT (per parcel)
Italy £35.99 +VAT (per parcel)
Spain £39.99+VAT (per parcel)
Greece & Portugal £49.99+VAT (per parcel
Austria, Czech Republic, Finland, Hungary, Lithuania, Norway, Poland, San Marino, Slovakia, Slovenia, Sweden, Switzerland, Estonia, Romania, Turkey, Latvia = £45.99+VAT (per parcel)
Bulgaria, Canary Islands, Gibraltar = £49.99+VAT (per parcel)
USA & Canada
from £30.00
Australia
from £40.00
Age Verification Service (UK)
Certain items (knives, alcohol etc) require age verification at the point of delivery in the form of photo ID. There is a surcharge for this special postage service of £10 per parcel.
Entertainment Memorabilia Auction Small Packets
For single LP's, records and single autographed unframed photographs there is a 'small packet' postage charge of £9.99+VAT

Please contact us for a specific quote. All postage dependant upon specific location.
UK FURNITURE DELIVERY
Southern England - from £70+VAT
Midlands & Surrounding - from £90+VAT
Northern England & Scotland from £150+VAT
ALL PRICES ON THIS PAGE ARE SUBJECT TO SPECIFIC LOCATION AND QUANTITY OF ITEMS PURCHASED AND SHOULD BE USED AS A GUIDE ONLY. For a specific quote, please contact us: info@eastbristol.co.uk
Conditions of Sale
East Bristol Auctions Ltd carries on business with bidders, buyers and all those present in the auction room and online prior to or in connection with a sale on the following General Conditions and on such other terms, conditions and notices as may be referred to herein.
1. Definitions
In these Conditions:
(a) 'Auctioneer'or 'we/us' means the firm East Bristol Auctions Ltd or its authorised auctioneer, as appropriate;
(b) 'deliberate forgery' means an imitation made with the intention of deceiving as to authorship, origin, date, age, period, culture or source but which is unequivocally described in the catalogue as being the work of a particular creator and which at the date of the sale had a value materially less than it would have had if it had been in accordance with the description;
(c) 'Hammer price' means the level of bidding reached (at or above any reserve) when the auctioneer brings down the hammer;
(d) 'Terms of Consignment' means the stipulated terms and rates of commission on which East Bristol Auctions Ltd accepts instructions from sellers or their agents;
(e) 'Total amount due' means the hammer price in respect of the lot sold together with any premium. Value Added Tax chargeable and any additional charges payable by a defaulting buyer under these Conditions;
(f) 'sale proceeds' means the net amount due to the seller, being the hammer price for the lot sold less commission at the stated rate, Value Added Tax chargeable and any other amounts due to us by the seller in whatever capacity and however arising;
(g) 'You', 'Your' etc refers to the buyer as identified in condition 2;
(h) The singular includes the plural and vice versa as appropriate.
Information for buyers
2. Bidding Procedures and the Buyer
(a) Bidders are required to satisfy any security arrangements before entering the auction room to view or bid, and to register their particulars immediately on purchasing their first lot on the day.
(b) The maker of the highest bid accepted by the auctioneer conducting the sale shall be the buyer at the hammer price and any dispute about a bid shall be settled at the auctioneer's absolute discretion by re-offering the Lot during the course of the auction or otherwise.
(c) Bidders shall be deemed to act as principals.
(d) Our right to bid on behalf of the seller is expressly reserved up to the amount of any reserve and the right to refuse any bid is also reserved.
3. Increments
Bidding increments shall be at the auctioneer's sole discretion.
4. The Purchase Price
The buyer shall pay the hammer price together with a premium thereon of 17.5% + VAT on the premium at the rate imposed by law.
ARTISTS RE-SALE RIGHT. Buyers of the re-sold art of living artists will be charged the royalty where applicable. Currently this is 4% on any item sold at 1000 Euros or over, diminishing about 50,000 Euros. VAT is not applicable. Further details can be obtained from our office.
5. Value Added Tax
Valued Added Tax on the hammer price is imposed by law on all items affixed with an asterisk. Value Added Tax is charged at the appropriate rate prevailing by law at the date of sale and is payable by buyers of relevant Lots. (Please refer to 'Information for Buyers' for a brief explanation of the VAT position)
6. Payment
We accept payment via the telephone and also provide a secure payment portal through our website for your own security. Bidders leaving successful commission bids with us via telephone or email should be aware that payment will be made via this service. Online bidders, whether live or by automated online commission can pay via these services also
(1) Immediately a Lot is sold you will:
(a) Give to us, if requested, proof of identity, and
(b) Pay to us the total amount due in case or in such other way as is agreed by us.
(2) Any payments by you to us may be applied by us towards any sums owing from you to us on any account whatever without regard to any directions of you or your agent whether expressed or implied.
7. Title and Collection of Purchase
Ample opportunity is given for inspection. Each purchaser, by making a bid for a lot, is deemed to have knowledge of all the Conditions of Sale and to have satisfied themselves as to the physical condition and accuracy of the description of the lot, including, but not restricted to, whether the lot is damaged or has been repaired.
(1) The ownership of any Lots purchased shall not pass on to you until you have made payment in full to us of the total amount due.
(2) You shall at your own risk and expense take away any lots that you have purchased and paid for no later than five working days following the day of the auction after which you shall be responsible for any removal, storage and insurance charges.
(3) No purchase can be claimed or removed until it has been paid for.
8. Remedies for Non-Payment or Failure To Collect Purchase
(1) If any Lot is not paid for in full and taken away in accordance with these Conditions or if there is any other breach of these Conditions, we as agent for the seller shall at our absolute discretion and without prejudice to any other rights we may have, be entitled to exercise all or any of the following rights and remedies:
(a) To proceed against you for damages for breach of contract;
(b) To rescind the sale of that Lot and/or any other Lots sold by us to you;
(c) to resell the Lot (by auction or private treaty) in which case you shall be responsible for any resulting deficiency in the total amount due (after crediting any part payment and adding any resale costs). Any surplus so arising shall belong to the seller;
(d) To remove, store and insure the Lot at your expense and, in the case of storage, either at our premises or elsewhere, at the cost of £1.50 per lot per day;
(e) To charge interest at a rate not exceeding 1% per month on the total amount due to the extent it remains unpaid for more than five working days after the sale;
(f) To retain that or any other Lot sold to you until you pay the total amount due;
(g) To reject or ignore bids from you or your agent at future auctions or to impose conditions before any such bids shall be accepted;
(h) to apply any proceeds of sale of other Lots due or in future becoming due to you towards the settlement of the total amount due and to exercise a lien on any of your property in our possession for any purpose.
(2) We shall, as agent for the seller and on our own behalf pursue these rights and remedies only so far as is reasonable to make appropriate recovery in respect of breach of these conditions.
9. Third Party Liability
All members of the public on our premises are there at their own risk and must note the layout of the accommodation and security arrangements. Accordingly, neither the auctioneer nor our employees or agents shall incur liability for death or personal injury (except as required by law by reason of our negligence) or similarly for the safety of the property of persons visiting prior to or at a sale.
10. Commission Bids
Whilst prospective buyers are strongly advised to attend the auction personally or via online bidding platform and are always responsible for any decision to bid for a particular Lot and shall be assumed to have carefully inspected and satisfied themselves as to its condition, we will if so instructed clearly and in writing execute bids on their behalf. Neither the auctioneer nor our employees or agents shall be responsible for any neglect or default in so doing or failing to do so. Where two or more commission bids at the same level are recorded we reserve the right in our absolute discretion to prefer the first bid so made.
11. Warranty of Title And Availability
The seller warrants to the auctioneer and you that the seller is the true owner of the property consigned or is property authorised by the true owner to consign it for sale and is able to transfer good and marketable title to the property free from any third party claims.
12. Agency
The auctioneer normally acts as agent only and disclaims any responsibility for default by sellers or buyers.
13. Descriptions
(1) Whilst we seek to describe lots accurately, it may be impractical for us to carry out exhaustive due diligence on each lot. Prospective buyers are given ample opportunities to view and inspect before any sale and they (and any independent experts on their behalf) must satisfy themselves as to the accuracy of any description applied to the lot. Prospective buyers also bid on the understanding that, inevitably, representations or statements by us as to authorship, genuineness, origin, date, age, provenance, condition or estimated selling price involve matters of opinion. We undertake that any such opinion shall be honestly and reasonably held and accept liability for opinions given negligently or fraudulently. Subject to the foregoing neither we the auctioneer nor our employees or agents nor the seller accept liability for the correctness of such opinions and all conditions and warranties, whether relating to description, condition or quality of lots, express, implied or statutory, and hereby excluded. This condition or quality of lots, express, implied or statutory, are hereby excluded. '.
(2) Private treaty sales made under these Conditions are deemed to be sales by auction for purposes of consumer legislation.
14. Online Bidding
East Bristol Auctions Ltd. offer an online bidding service via the-saleroom.com for bidders who cannot attend the sale.
In completing the bidder registration on www.the-saleroom.com and providing your credit card details and unless alternative arrangements are agreed with East Bristol Auctions Ltd. you:
1. authorise East Bristol Auctions Ltd., if they so wish, to charge the credit card given in part or full payment, including all fees, for items successfully purchased in the auction via the-saleroom.com, and
2. confirm that you are authorised to provide these credit card details to East Bristol Auctions Ltd. through www.the-saleroom.com and agree that East Bristol Auctions Ltd. are entitled to ship the goods to the card holder name and card holder address provided in fulfilment of the sale.
Please note that any lots purchased via the-saleroom.com live auction service will be subject to an additional 4.95% commission charge + VAT at the rate imposed on the hammer price
15. Anti-Money Laundering
Under the regulations set by the Financial Conduct Authority (FCA), East Bristol Auctions is required to provide appropriate identity evidence for HMRC when transactions take place over £10000. This is to prove that all buyers seeking to purchase high value items from East Bristol Auctions are who they say they are.
Buyers registering to bid via Saleroom.com and East Bristol Auctions own website will register to bid initially by entering an email address ( subject to validating) a current address of residence along with a valid debit or credit card that details will be matched against each other to verify your identity and to protect us from theft and fraud, complying with AML laws. Successful bidders of items over £10000 using internet bidding will be sent an email after purchase asking for these, which includes details on what kind of documents we can accept. Please note, in some instances, if we are unable to verify your identity as a bidder on items of a value over £10000, we will possibly not be able to process your bid and it may be cancelled as a result. Once your identity has been verified, we will inform you via email.
Buyers submitting telephone bidding requests and commission bids prior to the auction will also be subject to the above requirements and document requests prior to bidding thus satisfying both East Bristol Auctions and the current regulations for the Money Laundering Act .
East Bristol Auctions will be required by law to meet current compliance requirements for example, under UK AML (anti-money laundering) HMRC laws, or individual countries customs laws and regulations and disclose this information
Coronavirus: Due to the current Coronavirus / COVID19 situation this auction will be LIVE ONLINE ONLY. There will be no in-person bidding allowed. We are offering online bidding via our website (www.eastbristol.co.uk) for 3%(+VAT) or bidding through the-saleroom.com for 4.95%(+VAT), as usual. We can also accept bids via email, telephone or post at no additional cost. Our staff are on hand to answer condition reports by email or telephone, and extra pictures are available by request.
Our saleroom is closed and members of the public can not be admitted. Collections can be arranged strictly by appointment, after payment has been received. In all respects we urge people to use our postage & packing service (fully operational), or our furniture courier service (fully operational). We will hold on to items for a maximum of 7 days after the auction, after which storage fees will apply.
Viewing; FOR SPECIFIC LOTS ONLY - viewing for items in this auction is strictly by appointment only and will be done on an item-by-item basis - you will not be allowed in the saleroom to 'browse'. We will require a list of lots you wish to view in advance of you coming, and we will have these brought out to you for inspection. Please contact us to arrange.
By signing up to bid - you are agreeing to the standard terms of sale as outlined, and are politely reminded that all items remain sold 'as is' irrespective of any description, and that ample opportunity to obtain condition reports has been given.


Buyers Premium 18% (+VAT)

Lots purchased online with the-saleroom.com will attract an additional charge for this service in the sum of 4.95% of the hammer price plus VAT.

We accept debit and credit cards online, or over the phone. Online bidders, whether live or by automated online commission, must have a registered card on The-Saleroom.com payment portal. If no contact has been made within 7 days, payment will be automatically taken from the registered card.

Credit or debit card payment in person in our Bristol offices is always welcome.

Ample opportunity is given for inspection. Each purchaser, by making a bid for a lot, is deemed to have knowledge of all the Conditions of Sale and to have satisfied themselves as to the physical condition and accuracy of the description of the lot, including, but not restricted to, whether the lot is damaged or has been repaired. We offer packing and shipping quotes for all items worldwide, visit eastbristol.co.uk for details and pricing. For a specific overseas quote, please contact us.

VAT: (*) indicates that VAT is payable by the purchaser at the standard rate on the hammer price as well as being an element in the buyer`s premium.

CONDITION REPORTS : (**) Detailed condition reports for all lots are available upon direct request to the Saleroom

Delivery, Postage and Packing available worldwide on all items. See www.eastbristol.co.uk for details